SNARE DRUMS & DRUM SETS
The George Way drum company currently offers snare drums and drum sets. Snare drums are in ongoing production in Vancouver, Canada. Drum sets are produced in small batches and manufactured in the USA (from USA made and imported components).

All George Way snare drums are now available as CSO (Concert / Symphonic / Orchestral) models!
NEW FOR 2017! Current production for George Way Traditon "Tuxedo" drum outfits feature shells crafted from Mahogany and Walnut. Shells are 4 made from 4 plies with 4 ply reinforcement rings. Only traditional sizes are offered with tom sizes from 10" to 18" and bass drums from 18" to 26".


Contact your local Geo. H. Way dealer to order yours!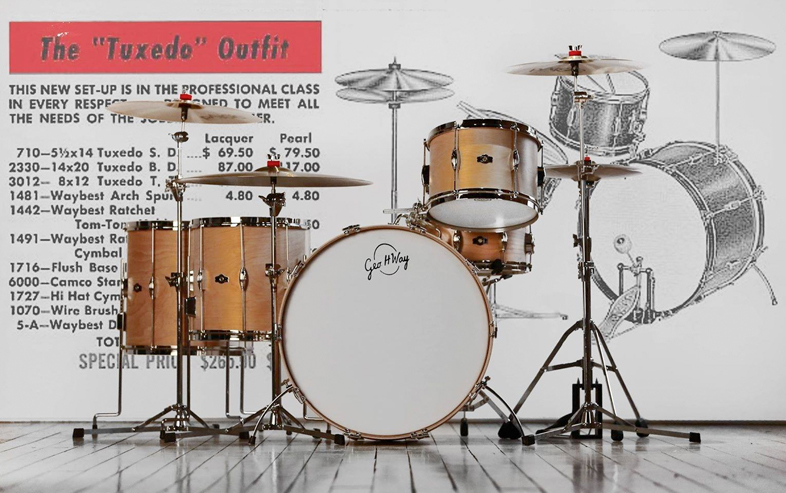 George H. Way Snare Drums for 2017


George Way drums are crafted from the finest woods and metals
and fitted with the following components:
?•FOUR PLY ELECTRONIC BONDED REINFORCED SHELL EDGE RINGS
NEW! •WAY DOUBLE EDGE-DOUBLE FLANGE HOOPS
NEW! •DIE CAST BASS DRUM CLAWS WITH T HANDLES
NEW! • DUNNETT RES-O-TONE HEADS by REMO
•DOUBLE END STREAMLINE CASINGS
•WAYBEST ARCH SPURS
AAA CHROME PLATING ON ALL METAL PARTS.
NEW FOR 2017! Tradition Cordia

The George H. Way Drum Company prides itself in creating the finest instruments for the professional drummer, thus it gives us great pleasure to present our newest wood shell offering, the Traditon Walnut finished in exotic Cordia.

5.5 x 14
6.5 x 14
8 x 14



NEW FOR 2017! Studio Acacia

Striking an beautiful balance on both appearance and tone the
Tradition Acacia model blends well with any style of music and looks
exceptional with any drum set up. Finished in high gloss lacquer.

5.5 x 14
6.5 x 14
8 x 14
10 x 14



NEW FOR 2017 Tradition Walnut & Mahogany

The George H. Way Drum Company is pleased to announce the introduction of Walnut and Mahogany to the "Tradition™" line of snare drums. These models feature the same shell architecture as the Studio model with one exception - the shells are entirely made from Mahognay or Walnut. The Walnut snares are finished in a Natural Matte lacquer and the Mahogany models are available in Matte Natural and Wine Red gloss lacquer.

Single flange or die cast hoops available at additional charge.

5.5 x 14
6.5 x 14
8 x 14
10 x 14





The Tradition
All models of Way snare drums are now available as concert models featuring the new 345 CSO™ Triple throw off. An exceptionally choice for the professional and the student! Please add $20 per drum for CSO™ models. When ordering CSO™ models should be specified by indicating "C" after the model number.

Single flange or die cast hoops available at additional charge.



The "Elkhart"
MEDIUM WEIGHT COPPER SHELL, STREAMLINE CASINGS, 845 SNARE THROW OFF, TRIPLE FLANGE HOOPS
AAA CHROME PLATING ON ALL METAL PARTS, POLISHED COPPER FINISH.

802 -- 5.5 x 14
804 -- 6 1/2 x 14

The "Indy"
MEDIUM WEIGHT BRONZE SHELL, STREAMLINE CASINGS, 845 SNARE THROW OFF, TRIPLE FLANGE HOOPS
AAA CHROME PLATING ON ALL METAL PARTS, MATTE ANODIZED NATURAL ALUMINUM FINISH.

202 -- 5.5 x 14
204 -- 6 1/2 x 14

The "Aero"
ULTRA THIN SEAMLESS SPUN ALUMINUM SHELL, STREAMLINE CASINGS, 845 SNARE THROW OFF, TRIPLE FLANGE HOOPS
AAA CHROME PLATING ON ALL METAL PARTS, MATTE ANODIZED NATURAL ALUMINUM FINISH.

502 -- 5 x 14
504 -- 6 1/2 x 14
506 -- 6 1/2 x 13

The "Hollywood"
EXTRA HEAVY BRASS SHELL, STREAMLINE CASINGS, 845 SNARE THROW OFF
TRIPLE FLANGE HOOPS, AAA CHROME PLATING ON ALL METAL PARTS, CHROME FINISH.

902 -- 5 x 14
904 -- 6 1/2 x 14
Available finishes
NATURAL OIL FINISHES ONLY
METAL SHELLS ARE POLISHED AND LACQUERED